Self Perform for NR Magazine Volume 3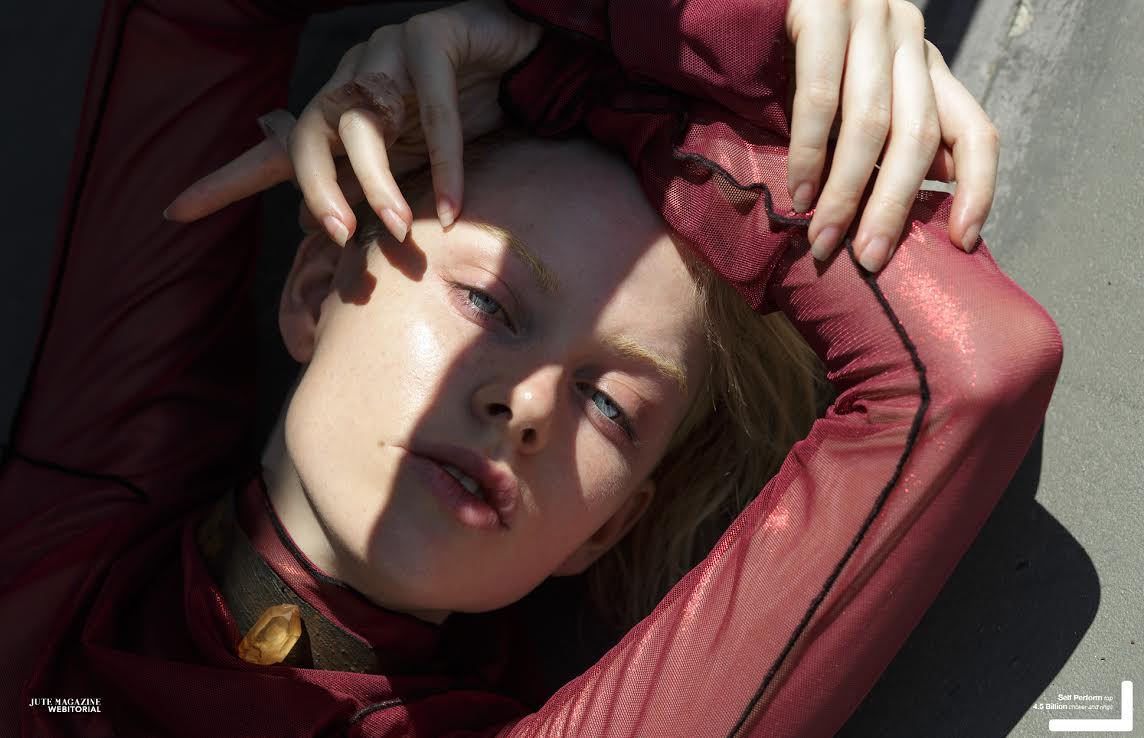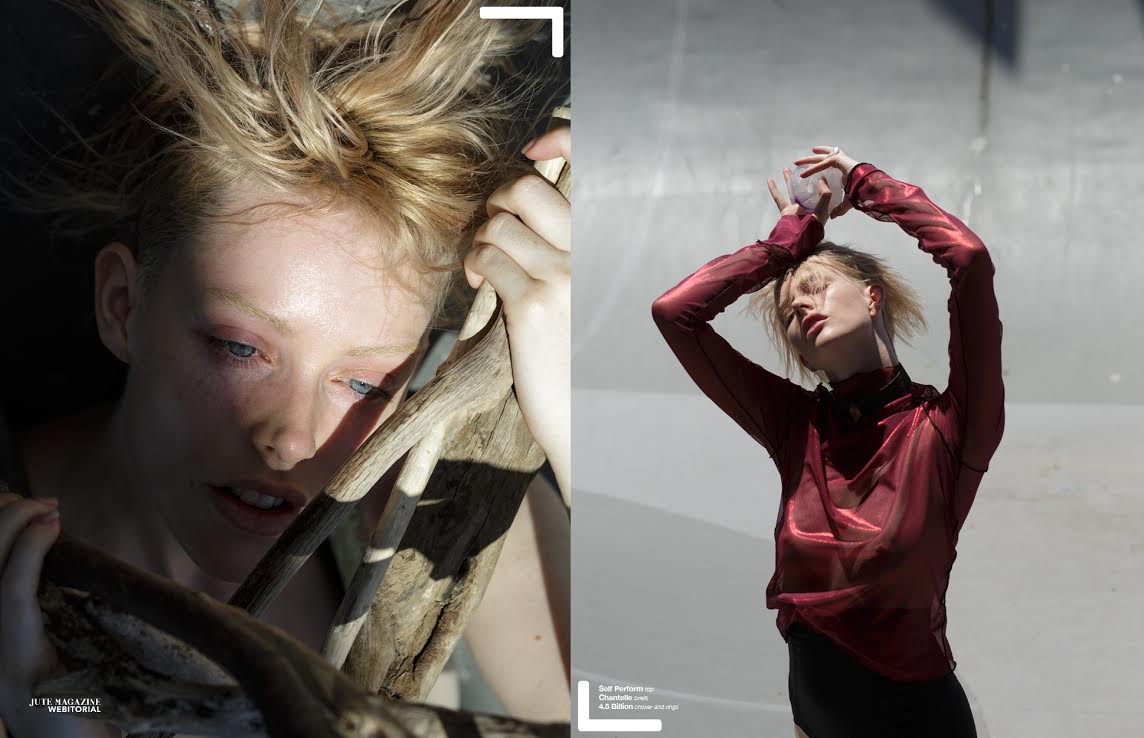 After receiving a BA degree in fashion from RMIT University, Kitty Lakshmi, 30, a cosmic force of a female and founder of Melbourne based label, Self Perform, did not touch a sewing machine for three years. Uninspired by the current state of the industry and battling post-graduate delirium, Kitty abandoned hemlines and silhouettes. The year was 2011 and vogue.com recently remembered the trends of the year past in phrases like "riot acts", "budding grove" and "punch lines", devoid of meaning outside fashion's ruffled, fustian circle.
Traveling first to the base of the Himalayas to study yoga, Kitty spent a year quieting her mind whilst stoking an internal fire. Time past and slowly the Southern hemisphere began to beckon her home and so she relocated to New Zealand, where members of her family resided. Kitty began the next two years of her life in downward dog and ended them contemplating karma. Given the name Lakshmi at the ashram after the Hindu goddess, a bonafide giver of life, spiritually and materialistically, Kitty taught up to 11 classes a week as she learned how to serve as a channel for self-actualization. An inner calm settled over the turbulent sea of her coming of age story simultaneously as the gum trees of Melbourne grew frenziedly in her dreams. She asked the wind, "when am I coming home?" The journey she had embarked upon would lead her full circle as her inherent need for creation left her soul unsettled and her hands idle. "You can only go so long without doing what you were meant to do. I need to make things, it's in my blood. But I needed to find a level of authenticity within myself before I could take on the social responsibility of being a designer," said the golden haired goddess via Skype from their Melbourne office on a December morning.
2017 is now upon our horizon and the fashion industry has found its voice as it accepts its place not only as the Devil in Prada but as a cultural force in the modern era. Magazine columns normally reserved for trend reports instead voiced their political opinion in the Clinton vs. Trump debacle and runway shows served bureaucratic statements on golden platters of diversity. "I feel like culturally, we've all done a bit of soul-searching and maybe we're a bit more confident in what we believe, we're a little bit more self-aware," said Kitty. It indeed feels that way and is perhaps the reason why Self-Perform seems less like a fledgling operation and more like a necessary response to body-positive motifs and cries of individuality. In the face of social media's perfectly packaged how-to Jenner bible, the label places a heavy aesthetic emphasis on the flesh through the body-mapping techniques developed by Kitty during university. Self Perform views the body as canvas and life as a stage. "In every kind of interaction we have, we play these roles on a daily level and costume and clothing create a huge part of that character. Different clothing can activate aspects of a personality and awaken potentials within ourselves that we didn't realize," said Kitty before exhaling, "I'm a big advocate of clothing having superpowers." In the case of Self-Perform, the clothes represent and encourage character development in an avant-garde step away from pure function and matter-of-fact wearability.
Enter from stage right: Alana Capitanio, 26, a spunky brunette (currently Blonde) with a silver hoop through her left nostril. Alana recently joined the team at Self Perform though she and Kitty have been friends since their souls first bonded as they were "crunking up" in front of a speaker at a drum and bass festival some years ago. With a background in visual merchandising, Alana came on board needing less of a profession and more of a formative, creative home.
After she was told that the way she looked would deter the look of brand she was working for, she realized that the boundaries she was pushing, were her own. Alana's confidence grew with her words, "you need to look a certain way because there's a certain aesthetic that people think is right. Otherwise, you won't get far because you have tattoos, because the 9-5 girl, who works a corporate job should be completely clean with a full face of make-up and natural-looking hair. There are a lot of obstacles in fashion that people call, 'rules', that I don't find to be rules." Alana has found herself to be "at peace" because the weekend-warrior, wild-child, and the woman seated at her desk are finally one again. HR's blood doesn't boil over spilt judgment when Alana walks into her new office, in Kitty's words, "she always comes in looking absolutely incredible."
When we asked Kitty and Alana how they live up to their unfailingly empathetic brand philosophy, boasting "unconditional Self love through Self acceptance and authentic expression" and "100% body positivity" on the daily, Alana replied, "I think it comes with my personal experiences. We're taught that if you're starting to age, maybe you should get botox or whatever and hide behind everything; but it's more about being comfortable with yourself and showing everyone the real you." Essentially for Alana, Self Perform, her place besides Kitty on the Skype chat, the sound of their combined laughter —represents a life-trajectory we as women are all familiar with. We're force-fed quotas on what is "sexy" annually courtesy of the Victoria's Secret fashion show. By the time we're 30, we should be married, successful by society's standards and living in a house with a porch. We're supposed to get a mom haircut and take out our nose-rings, hide our tattoos and uphold the myth that girls don't fart — that is until we arrive at a point of self-acceptance. Think of an experience that caused you to ask these questions, Kitty recited them perfectly, "Am I beautiful? Am I pretty enough? Am I attractive? Am I good enough? All the 'am I enoughs'?" When did you realize that you were good enough? Was it a defining moment or more of a slow, pulling-up to the train station and a hesitation to get off at a stop called, "empowerment"? Either way, there was no turning back.
Diversity is high-brow right now, it's hip, no, it's more than hip, it's necessary. But entangled within that same web of acceptance, empathy and political correctness is also a celebration of the individual. Much of Self Perform's philosophy revolves around the idea of multiple selves, a play on our identity. Fashion is the medium through which we can feel empowered to bring those selves (our true self) out. Fashion can now be a catalyst for self-exploration as it re-defines boundaries. "Identity should be a fluid construct. I think clothing is costume. Clothing allows us to dress the various personalities that we hold within our one being. I think we're all very diverse, whether we know it or not," said Kitty. The bodysuits, boob-tubes, dresses and "dusty diamond bootleg flare" pants for sale on the Self Perform website scream New Year's Eve attire. Daring, sexy and too fabulous for life's monotony, it is who you want to be this year and how you want to dress. "People struggle to communicate what they want to say but with fashion, it's something that is right there in front of you," said Alana. Through this unique language of see and be seen, views can be tried on, expressed artistically and deepened emotionally. What adorns the body also adorns the soul.
While the brand is still in it early days and Alana and Kitty both work at a leather goods company called Made Measure to support themselves, Self Perform represents a shift towards fashion being more democratic. With the rise of DIY culture, magazine stands are speckled with ad-free, independent publications and apps like Depop provide ways for aspiring designers to sell their ragamuffin labors of love. Pastimes and creative endeavors that were merely deemed passion projects can now more easily take shape and manifest themselves as movements through blogs, social media and the world wide web. What's the catch? There is none, but reality can be a tough thing to look in the mirror. Kitty and Alana never switch off. "It's like yeah, starting a label, yeah that's a great idea, oh wait no, I have to do everything. But it's a refinement of the creative process because anyone can have an idea or dream but it's following the steps to be able to make that a reality, that's where the real work lies. It's a very good technique to master, it makes you feel like you can do anything to be honest," said Kitty.
While the world can seem a bit dark at times and we as a generation know that going to college and having an internship won't guarantee job-security or emotional fulfillment, we also know what it means to make things happen, to work hard, to run on empty. "If you're passionate about something, as long as it makes you happy and you love it, keep doing that, don't do anything but that," said Alana firmly. While the road to success is by no means mappable, our internal compasses are ever aligned with our hearts. "Humans are never going to stop adorning themselves, we'll adorn ourselves until matter runs out," said Kitty lightheartedly. Call it fashion, call it materialism, culture or art, we've entered a time when empowerment lies in the hands of the individual who chooses to act in line with his or her views. We've entered a time when the individual again has sovereignty over the body and what roles it chooses to perform.